Research
Our research aims at developing concepts, methods, and tools for the holistic engineering of reliable and secure software-intensive systems. These software systems must be robust and resilient to planned and unplanned changes in the context of configuration, reconfiguration, or evolution. The systems must be reliably and securely dynamically adaptable to new application scenarios and environments and support systematic reuse. In this context, precise, mathematically sound guarantees for critical functional and non-functional system properties, especially for reliability and security, are essential. Application areas for this research are primarily in automotive software and systems engineering and in automation engineering in mechanical and plant engineering.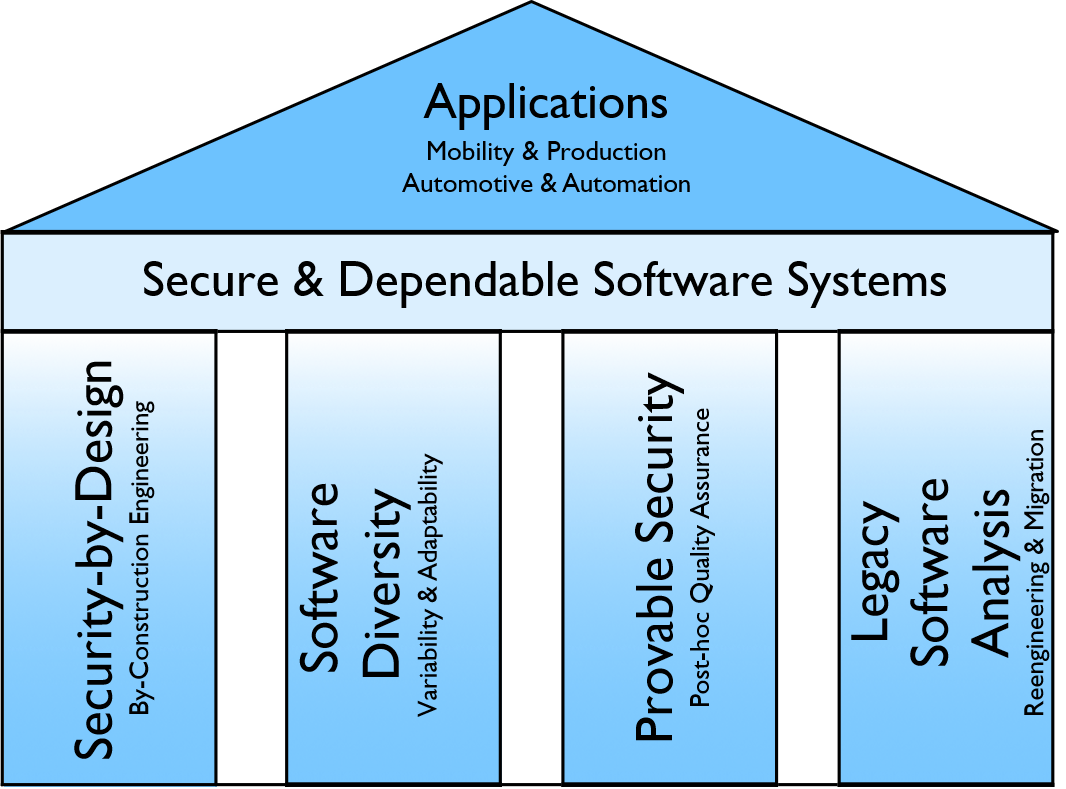 Research topics
Security-by-Design and By-Construction Engineering:
Software-intensive systems in safety and mission-critical areas place high demands on their safety (safety and security) and reliability. These essential system properties must already be taken into account in the development process in order to be able to guarantee them in operation. The approach of by-construction engineering aims at developing software systems starting from a (formal) specification of their functional and non-functional properties in such a way that they fulfill these properties by construction.
Software Diversity (Variability & Adaptability): Modern software systems are highly configurable to adapt to different requirements and environmental conditions. This configurability at development time can also be used as adaptability at runtime, allowing systems to self-adapt to new conditions. This can improve the robustness and resilience of software systems through diversity, which can be used in particular to harden systems against attacks.
Provable Security and Post-hoc Quality Assurance:
Complementary to by-construction engineering, post-hoc quality assurance techniques aim to test critical functional and non-functional properties of systems, including reliability and security, to ensure the quality of these systems. A particular focus of research is on efficient and effective test procedures based on systematic test case generation, test case selection, and test case prioritization, especially for variant and evolving software systems. This also includes assurance procedures for intelligent systems, where parts of the functionality are realized by trained AI components. A current research project is concerned with end-to-end testing of intelligent driving functions in the context of automated driving, which should also detect targeted attacks on the AI components. Another research focus is the use of formal methods, in particular deductive verification, for the quality assurance of software systems. In this context, our research aims at scaling these techniques by exploiting modularity and improving usability through modern AI-based methods.
Legacy Software Analysis:
Modern software systems are generally no longer developed from scratch. Instead, software systems are continuously evolving. However, this continuous development often leads to the loss of documentation about the software systems as well as the transfer of errors from one part of the system to another by copying. Research in the area of legacy system analysis aims to analyze existing structures of these systems (re-engineering) and thus create opportunities to restructure or even migrate the legacy systems. For example, existing functionalities of a legacy system can be transferred into a new type of security architecture. The extraction of reusable building blocks from legacy systems enables a systematic reuse and further development of these systems with the goal of Sustainable Software Engineering.